Products
ENGRAVED METAL TAGS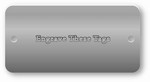 Engrave your message permanently onto our Aluminum, Brass or Stainless tags. Diamond cut engraving.
Use engraving when tags need a Unique number or other information.
Pricing includes engraving up to 2 lines of standard text on Aluminum or Stainless. Additional lines available for $.35 per tag per line.
Call for pricing for Brass tags.
Minimum order: 10 Tags
Call us at 1-888-278-0188 to place an order