Products
LEAK DETECTION METAL TAGS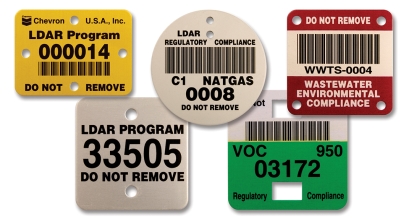 Durable barcoded aluminum tags can be used for data capture at multiple check points, can be used to mark valves, pumps, compressors, relief valves, connectors and other piping components.
Available with Teflon coating for extra protection and easy removal of maintenance spray or other contaminants. Bar codes, sizes, numbering, materials, and finishes can be customized to your exact specifications with quick ship available on orders.
Call 1-888-278-0188 for Pricing, more information, and to place your Order.