CUSTOM TAGS / CUSTOM TAG
The Tag Place specializes in custom tags. We pride ourselves on offering many options to our customers when it comes to custom tags. We help to fit the tag to your need. Almost all of our tags can be customized to some degree. The Tag Place offers many different features and materials.
Write on tags can be offered blank or customized with lots of different options such as printing, consecutive numbering, eyelets, wires attached, 2 sided-printing and other features. Self-adhesive Aluminum write on labels or decals have a permanent adhesive that when applied to a clean dry non-porous surface can last many years in outdoor elements if needed. These durable and attractive labels can be printed and consecutive numbered per your specifications.
Metal Tags are offered in many different types of materials such as aluminum, colored aluminum, stainless and brass materials. They can be blank or stamped, with holes or without holes, consecutive numbered and also in many different shapes and sizes. Round, rectangle, oval, square, heart shaped, and many different dog tag shapes, some have a variety of sizes offered.
Vinyl or plastic tags can be customized by adding lamination or self-laminated tags, printed or custom sizes, a variety of eyelet sizes, perforated, consecutive numbered as well as other features. These tags can be used as Lockout Tags, Danger Tags, Meter Tags, cylinder tags and have many other uses.
Our Manila and cardstock and tyvek tags can feature options such as perforation, consecutive numbering, color printing, wires or strings attached, multiple part carbonless, fanfold and manifold tags, inventory tags, color coding and other features. These tags can be used for inventory, identification, inspection, status, osha or safety, corporate identity or any other use that will help to identify a product. Call the Tag Place today with your specific customized tag or label needs at 1-888-278-0188.
CUSTOM WRITE-ON TAG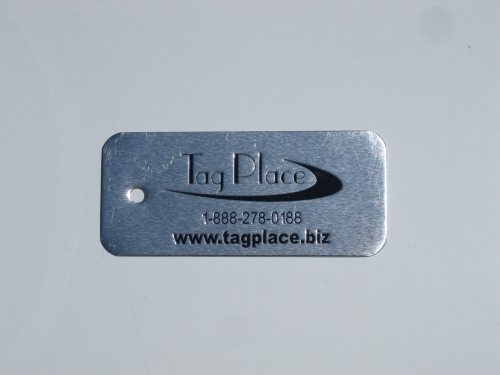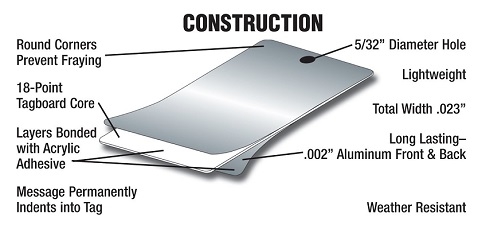 Customized Write On Tags create a professional and easy way to record activity or identify products. These indentable Write on Aluminum tags can be made in almost any size you need.
Standard pricing below includes printing one side with black ink, 5/32" roundhole punch. Call for pricing for additional items such as second side printing, consecutive numbering, colored ink and perforations.
Minimum order 100 tags
One time plate charge will be added to first time orders.
Industry Standard 10% +/- applies to all Custom Write on Tag Orders
Logos no additional charge with compatible artwork




Please send artwork or drawing to customerservice@tagplace.biz. Please reference your order number when submitting artwork. An electronic proof will be emailed for approval prior to printing